Here is a little bit about Vanessa of Paperback Designs.
My name's Vanessa, a Filipino. I'm 19 years old. I am currently living in my homeland, the Philippines. I do not have any siblings, but I do have a loyal companion, Benjie, my dog. I am a senior college student majoring in Computer Education.


At first, I had no plans in offering my services for other bloggers. I just love to design templates, to mix and match colors and to see if they will work. It was a passion for me. Then I started to notice that I am making a lot of templates but they were all in my computer. They were nice but it's useless if nobody is ever going to use them. So I decided to release these templates as linkwares (free templates) in Paperback Designs. That's how Paperback Designs got started (December 2007).

After a month or so, I started receiving emails from other bloggers requesting for custom designs (even if I was not offering - at that time custom designs). I was happy that they have entrusted me to work on their blog design!
I design my blogs at home, it's much comfortable using my own computer.
My favorite designs are the one's in my portfolio, especially Over the Top Aprons. I just love them all! I also love my ready made templates for blogger called lonely girl and elegant frame. As for freebies, my favorites are flower border and critters.
She also does
etsy banners
. She blogs at
The Uncomplicated Chatters
.
These are a few of her
premade designs
.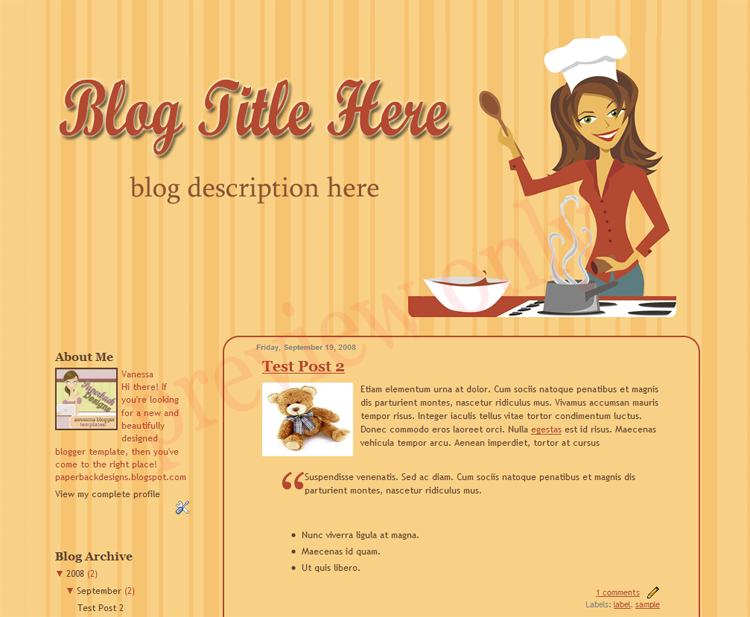 or how about this one simple yet to the point of blog personality,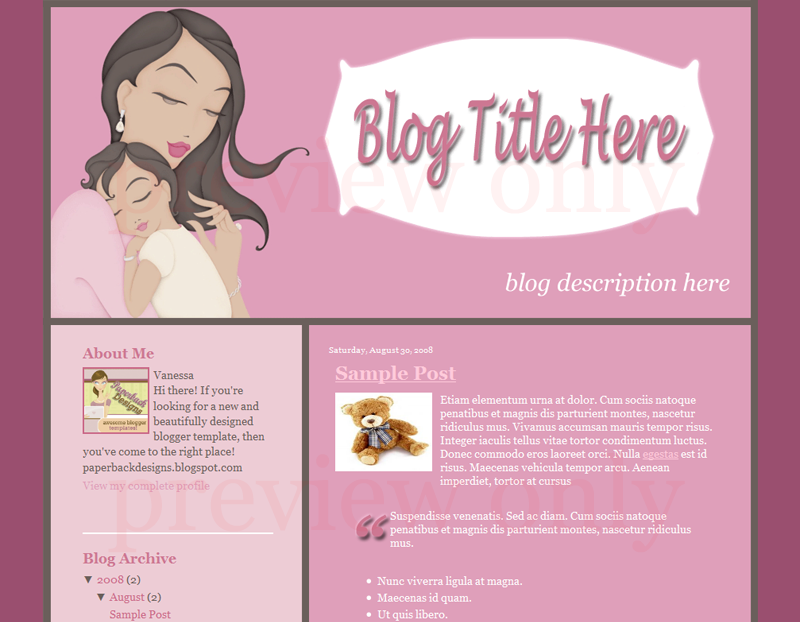 OH AND THIS ONE! So mysterious.
She has a premade that you can bid on for your blog.
Check it out.
She also has done websites.
Over the Top Aprons
is a site that she helps maintains. She was asked to organize it such as arranging all the pages, editing the pictures, and putting up the links. For a small fee,
she offers her website maintenance to people who are busy with their business that they can't find time to maintain their website. They just send her the details and she does all the work.
Now on to the contest and what she has offered from her store. This contest is for BLOGGER users only.
A creative package which includes the following:
*header image customization (image search)
*"go back home" button for navigation to homepage
*blog template
*custom divider for your sidebar
*custom post-signature
*matching advertising button for your blog
*10 revisions BEFORE installation
*free installation
This prize is worth $30US
Then 4 consolation prizes of an Entrecard design for linking both Paperback Designs and her new blog:
The Uncomplicated Chatters,
and reviewing Paperback Designs (worth $5US each)
You're FIRST Entry is to post about what you would like on your blog with links to my blog(
www.ruggratsx2.com
) and to
Paperback Designs
along with a review of her designs.
Extra Entries PLEASE LEAVE EACH Extra in a different comment:
-follow
me
and
Vanessa
on twitter
-how long have you been blogging?
-what motivates you to start and maintain a blog?
-Grab a button either one of the holiday buttons and/or my NBP button.
-Stumble this contest
-Twitter this contest
-subscribe to me
-Digg this contest
*Sorry for some confusion but please reread the contest details, those that have already submitted comments that had all those on there PLEASE come back and do them in seperate comments so you get the right amount of entries. Thanks, Jessica and Vanessa.
Winner of the Creative Package Design will be done by a live drawing.
Then Vanessa and I will judge for the consolation prizes. To be eligible for those prizes you must link back to her and myself with a review of her designs along with suggesting what she could do for a premade design. After you have done that please leave a comment with a link so we can view your post.
Contest ends Nov 23rd.