Tagged by
Renee of What Mommies Need
. Thank you Renee.
List my 5 addictions and then pass it along. WOW Five I'm not sure I can do that. LOL
1. Addicted to Oreo's
2. Addicted to ice cream, chocolate, cookies n cream, and cookie dough.
3. Addicted to blogging.
4. Addicted to all things purple.
5. Addicted to the love of my kids.
Lemonade Stand Award:
The Rules are as follows:
Put the logo on your blog or post. Nominate at least 10 blogs which show great attitude and/or gratitude! Be sure to link to your nominees within your post. Let them know that they have received this award by commenting on their blog. Share the love and link to this post and to the person from whom you received your award.
3 I like to eat cookies.
4 I'm as honest as they come, it's hard for me lie. I've never been able to do it well.
5 I would like to go back 3.5 years and have more of a young 20 something life.
6 I don't go between friends nor backstab (one thing I HATE about others that do it).
7 I do my darnest to keep myself happy and my family.
8 I'm a follower most of the times.
9 I love music.
10 I love to dance.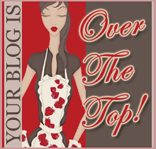 I received this little award from Bloggy Mommy from the Land of AH'S.
Terms of use are:
To receive this award your blog must be exceptional in design and content; presenting us with new knowledge, a sense of style, or at times just giving us a smile!
Each recipient of the award will acknowledge the person who honored them with the award and then go to http://overthetopaprons.blogspot.com/ to copy/paste the award : Your Blog is Over The Top. (located on the right sidebar, scroll down)
Just for fun; I would like to invite you to hit on the Blog Award to see a neat, new website!
The recipient may then pass the award on to 5 others that they feel meet the above criteria.
Please enjoy this honor and consider yourself just a little bit "Over The Top".

 

Good Golly Miss Blondie handed me the Honest Scrap Award.

10 things about me:



The rules are as follows: Honorees are to list 10 honest things about themselves - and make it interesting, even if we have to dig deep! Second, we are to pass the award on to 7 bloggers we feel embody the spirit of the Honest Scrap.

I just did this up above. LOL

So I have a total of 34 bloggers to nominate for all of these. HHHMMMM..... these will have to be completely new because everyone that I know has already received one or the other or both. This will be tough.
Ok well since it's been awhile since I've done awards, if you leave me a comment on ANY of the NEW posts that I've published in the last ten days, take these awards and wear them proudly on your blog.  Then come back here and let me know where you commented along with visiting yours to see it nicely on your place.
I'm glad to have you guys and ladies in my life.  If you've recently given me an award please send me the code in email so that I may wear it on my blog.  I know there have been a few but it's been a VERY LONG TIME!