OK I received two of these from some very wonderful ladies, Dette over at
Mamma Dawg
and Leah over at
Diaries of a Domestic Godess
. So I get to list TEN, yes 10 of my most wonderful friends that blog.
These are a few:
Blonde Mom Blog
The Collins Family
And Hania makes Three
Jennifer All About Tanner
Sara over at
Everyone Wants to Be A RockStar
Mommy Mary over at
Just the Baby and ME…
O'Brien Family News
Elisabeth over at
Hudson's Mom
John Deere Mom
Fit Joey
So there ya go!! Now I must go and tell them.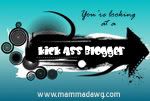 LOVE ON 'EM

Choose 5 bloggers that you feel are "Kick Ass Bloggers"



Let 'em know in your post or via email, twitter or blog comments that they've received an award



Share the love and link back to both the person who awarded you and back to http://www.mammadawg.com/



Hop on back to the Kick Ass Blogger Club HQ to sign Mr. Linky then pass it on!