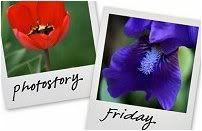 Hosted by Cecily and

MamaGeek
Now I'm not the best photographer in the world but I do have some photo's to share with a story. So here it goes.
My lovely Boys last year at a museum marveling at the wonders in Dragon times. They sure have grown up. Makes me feel sad. I miss the babies they once were.
Here Connor is marveling at the dragon head sticking out of the wall. That is Amma, my mom.
Here's my night in shining armor.
Here's a wonderful photo!! ALL THREE of the men in my life laying down for a nap. Mind you they were on a bean bag chair.
And there you have it my first PSF. Going down memory lane is always nice but can be saddening at the sametime. I'm excited to see some others.